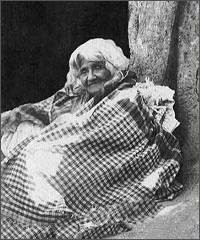 From Wikipedia, the free encyclopedia
Hazrat Babajan
India
20th century



Pune, India

Full name
Hazrat Babajan
Born
Balochistan
Died
September 21 1931
Pune, India

School/tradition
Sufism
Hazrat Babajan (c. 1806 - September 21 1931) was a Baloch Muslim saint considered by her followers to be a sadguru or qutub. Born in British India in Balochistan, she lived the final 25 years of her life in Pune, India.
[edit]
Early life & realization
Babajan, whose birthname was Gulrukh "Like a Rose", was born as a Pathan princess to a Muslim royal family of Balochistan. The precise date of Babajan's birth is unclear. Biography variants range from 1790[1][2] to 1806.[3] Well-educated, she memorized the entire Qur'an by heart, becoming a hāfiżah at an early age.
At the age of 18, Gulrukh fled her arranged marriage and sought God instead. Disguised by her burqa, she journeyed to the northeast, first to Peshawar and then to Rawalpindi. According to Indian author Bhau Kalchuri, she lived for a year and a half in the mountainous regions of what is now Pakistan under the guidance of a Hindu sadguru, then traveled to Punjab. In Multan, at the age of 37, she received God-realization from a quṭub, Maula Shah.
[edit]
Travels and pilgrimages
After a second stay in Rawalpindi, staying with her earlier Hindu master, Gulrukh embarked on several long journeys through the Middle Eastern countries Syria, Lebanon, Iraq and Mecca, often disguised as a man. Apparently to avoid detection, she traveled by way of Afghanistan, Iran, Turkey and then doubled back into Arabia. At the Ka'bah, she offered prayers five times a day, always sitting at one selected spot. While in Mecca, Gulrukh often gathered food for the poor and personally nursed pilgrims who had fallen ill.[4]
From Mecca, Gulrukh made pilgrimage to the tomb of the Islamic prophet Muhammad in Medina, where she adopted the same routine of offering prayers and caring for fellow pilgrims. Leaving Arabia, she passed through Baghdad, Iraq and back to the Punjab. She then traveled south to Nashik and established herself in Panchvati. From Nasik, Babajan traveled on to Mumbai, where she stayed for some time and her fame grew.
In April 1903, Babajan made a second pilgrimage to Mecca, this time sailing from Bombay on the SS Hyderi. About 1904, Babajan returned to Bombay and soon afterward proceeded to Ajmer in northern India to pay homage at the tomb of the Sufi saint Moinuddin Chishti who established the Chishti Order of Islam in India. From Ajmer she returned to Bombay and then soon after traveled west to Pune.
In Pune, Babajan established her final residence, first under a neem tree near Bukhari Shah's mosque in Rasta Peth and later another neem tree in the then-dilapidated section of Pune called Char Bawdi where she remained the rest of her life. She eventually allowed her devotees to build a shelter of gunny sacks above her and stayed there throughout all seasons. Her disciples included Hindus, Muslims, and Zoroastrians.
[edit]
Master to Meher Baba
According to the Indian spiritual master Meher Baba, Babajan gave him God-realization through a kiss on the forehead in January 1914 when he was 19 years old on his way home from college in Pune.[5] After this, he said that he experienced being in bliss for nine months, after which he said he was helped to return to normal consciousness by a second sadguru, Upasni Maharaj of Sakori. Meher Baba said that Babajan was one of the five Perfect Masters of her time.
[edit]
Shrine in Pune
Hazrat Babajan died in the Char Bawdi section of Pune on September 21, 1931 under the neem tree where she lived the final years of her life. There is a shrine erected for her around the tree under which she made her final street home.
[edit]
References
[edit]
Biography
Kevin R.D. Shepherd: A Sufi Matriarch: Hazrat Babajan, Anthropographia Publications 1986. ISBN 0950868019
[edit]
External links