David Shepherd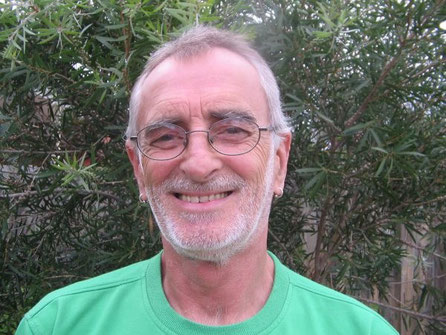 A Slice of Bio and Baba
I first heard the name Meher Baba at the first music festival in Australia, Ourimbah, in 1970. Tully were the band that chanted his name and they had a gigantic 25 foot picture of Baba's head as their backdrop. They were the resident band for three days and stole the show with their eclectic brand of rock fusion, a cross between Hawkwind/The Moody Blues and Fairport Convention – if that's possible. They had a Moog (the only one in Oz at the time I believe) and did 3 hour sets. They blew me away and I could definitely dig "Don't worry be happy."
I saw them (and that Head) again at the Wallacia festival and later in concert at the Dallas Brooks Hall. Adrian Rawlins was the M.C. dressed in a white sudra (and nothing else). The only single they released was "Krishna Came" the B side was "Lord Baba" which I preferred – I've still got that single.
I was heavily into drugs but going to Ananda Maga meditation/meetings in Carlton. My friend was in the same boat but he went to Divine Light Satsang. We went to see Baba Muktananda in Camberwell early one morning. He definitely had something – I could see his aura! We both decided there was something in this and we were going to get off drugs post haste and find out what it was but we didn't.
"Lord Baba" twirled around inside my head for the next 20 years.
My partner, Jane and I had a house in Thornbury and Karl Gallagher moved in. He ranted on about Meher Baba being the Avatar, etc. I was a recovering Catholic and only just an agnostic so we'd debate the pros and cons about this Avatar concept usually over some beers and bottles of wine.  One day he threw an old beat-up copy of 'The Godman' at me and said, "Read this, It's either bullshit or it's for real." So I read it and 'Listen Humanity" and I had to admit to him that I thought this could be for real.
Not long after we visited Betty in Eltham and I had the opportunity to hold (without gloves) and meditate on Baba's Sudra. Something happened which made me cry for quite a while and then I felt 'blessed'.  I thought, maybe this is for real.
A few years later I made it to India and at the 25th Amartithi I bowed down at The Samadhi. Then, I knew, this was for real.
If it hadn't been for Karlos 'Wetbrain' Gallagher I may never have found Baba as The Real.
Thanks Karlos. Jai Baba!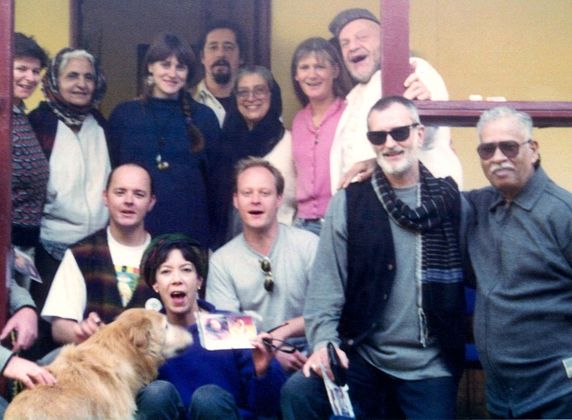 Margaret's place at Christmas Hills 199-? Jal and I with Dolly and Mehru crushed in between everyone else at the back. Notice Benny getting a closer look at the picture of Baba that Jane is holding up?
Benny was a Baba Dog (probably a human by now!) Everyone that went to the meetings at Betty's in the 90's or had to step over him laying across Bhau's hotel room door amongst the shoes knows.
One night we gave Benny a proper bath. Later he went out for a stroll as was his want – he was never locked in. He always had a few old ladies around the area that would leave a bowl of food and some water out for him not to mention every shop round the corner catered for him.
Next day he wasn't around. Then we discovered his collar (with rego clip) on the bathroom floor. We went out cruising, looking everywhere for him but he was nowhere to be found. Even the butcher who gave him a huge Saveloy everyday hadn't seen him! That wasn't good. We were worried that something terrible had happened to him. We prayed to Baba to watch over him and keep him safe. We drove home and rang the pound. Yes they did have a blonde dog without rego which had been picked up in Thornbury the night before. We were jubilant "Thank you Baba. Jai Baba etc." We picked him up and drove home.
He barged through the front door and ran into the lounge-room which had a bay window with a ledge around it on which was a picture of Baba. Benny jumped up, put a claw on either side of it, and just stood there on his hind legs smiling at Baba and Baba smiling back at him for what seemed ages. Then he got down, bowed then went to check out the rest of the house. Baba Dog?  Sure was! He knew…    Jai Baba!