Jim & Sofie Miskia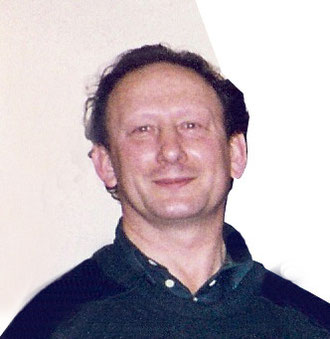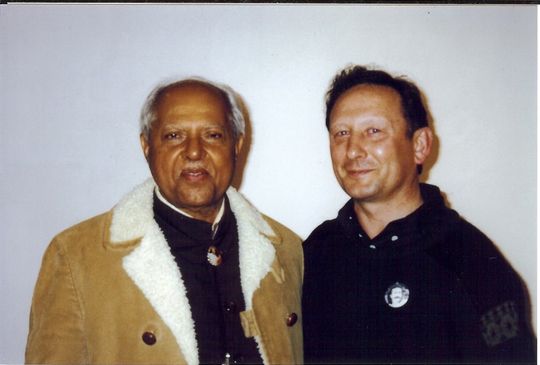 Jim Miskia, Melbourne
I first heard about Meher Baba in December 1966 or January 1967 from Denis Smith.
When I left school I started work at Victoria Barracks at the Navy Department in St Kilda Rd Melbourne. During 1966 I used to go to the Melbourne City library after work, I was trying to find who the next Buddha would be coming into the world.
I didn't know where to start so I though I could find out through books in the library.  I used to take many notes from the books I'd read and narrowed the possibilities down to 24 Buddhas in the world (naïve really!).  The books in the library were not the right ones.
I wasn't getting anywhere!  One day in December 1966 I met Denis Smith on the library steps, outside.  He asked me what I was up to and I replied that I was searching here at the library for the next Buddha and trying to find out through the books.
Denis said that I might be interested in a book he was reading and handed me a copy of The Everything and the Nothing.
I looked closely at Baba's picture on the front cover and light heartedly said "Is he Turkish or is he just a pizza man?"
I opened to one of the pages in the book and randomly read.
"I was Rama, I was Krishna, I was this One I was that One, and now I am Meher Baba.  In this form of flesh and blood I am that same Ancient One who alone is eternally worshipped and ignored, ever remembered and forgotten.  I am that Ancient One whose past is worshipped and remembered, whose present is ignored and forgotten and whose future (Advent) is anticipated with great fervour and longing"  Page 77 Everything and the Nothing (paper back)
The words were very powerful but I thought "How could this man stay that he was god?" and threw the book back to Denis.  I didn't like this at all.  Yet something about Baba's words rang true...  "But how could this man be God?" I thought.
Denis and I caught the train home to Hawthorn.  All the way home on the train, I couldn't get Baba out of my mind.  Denis lived just around the corner from where I lived and nearby lived two girls (near the Glenferrie Railway Station).  It was my custom to occasionally visit these girls as they used to read my notes act as a sort of a sounding-board.  I said to Denis, "I'm going to visit the girls and talk to them about what happened today".  I walked into the house and before I could say anything, they said "We have a book that you might be interested in."  They handed   me a book.  It was a copy of The Everything and the Nothing.  This was unexpected and a shock as Baba was on my mind all the way home.  I just couldn't escape, instead of Tea and Sympathy there was just no breathing space.  What I did—just folded my hands together and said "I am yours Baba take me".  I remember feeling like I'd been played, hook, reeled in and landed, hook line and sinker, like a fish being caught.  By the Divine Fisherman. What a game he played!  Two copies of The Everything and The Nothing within 30 minutes, was just too much.  I accepted Baba straight away.
During the next few weeks I tried to find out more about Baba.
In January 1967 I went to the Cheshire Book Shop in the city and bought Baba books.  It was very exciting to read about Baba.  I met Paul Smith at the bookstore, he worked there.  Later I found out from Paul about other Baba lovers and often visited the bookstore to find books on Meher Baba.  I met some Baba lovers like Oswald and Betty Hall in Eltham.
Later I met Peter Rowan, and I used to have lunch at the Shrine of Remembrance on the lawns opposite where I worked at Victoria Barracks.  Peter and I would also have lunch at the Ceylon Curry House.  Peter would say "A curry wasn't a curry unless it made you sweat."  Melbourne was full of young Baba people when Baba finally "turned the key".  There were a couple of "ads" in the newspaper and some on TV on Baba at this time in 1967 and there were Baba gatherings and I met many Baba lovers.
To reflect back on my life: I saw Baba's invisible hand was my life at least between 1963 and 1966. I had worked in the Victoria Barracks in the Navy Department from late 1964.  It was my first job after leaving school.  I remember I had 3 mates and we used to go to parties on Saturday nights at Auburn Grove Hawthorn at Rosemary Adam's house, Peter Jeff's house, also Dale Hickey's.  They had the best parties.  I didn't know this at the time but John and Rosemary met Baba in 1956.
During 1965-66 I was playing in a Blues Band and we used to practice at the drummer's house in Jellicao Street Box Hill.  I think this was next door to or two doors away from Stan Adam's and Clarice Adam's house where Baba visited in 1956.  I knew nothing about Baba at this time.  Being interested in and playing music.  I got a Sitar and Tablas sent from New Delhi.  I was very much into Indian Music as well as Blues and Folk.
In my first year at Swinburne Tech I got introduced to American Delta-Folk Bluesby Stan Key.  Stan's father had the most incredible record collection.  After work we used to listen to Leadbelly and all the old Blues guys from the 1930's.  I was 13 at the time and it made a big impression on my life.
From 1967 to 1969.  I met many Baba lovers and we had Baba meetings in Melbourne.
Sometimes Bill Le Page would come down to Melbourne from Meher House in Sydney and visit the Melbourne Baba group.  Other times he would send films of Baba which we would watch at our gatherings.  It was fabulous to see Baba moving in image.
I was so excited about Baba and I would tell all at work about Baba.  But none were very interested.
There was a visiting cruiser ship from the U.S.A that was in Australia and the Navy Department held a raffle for one person to go with the head of the department as a visitor on board the Battle Cruiser.  My name was drawn and I went in my flares, Indian Kurta, long hair, and Baba badge.  I got introduced to the Commodore and promptly left in the hands of a couple of Black American sailors for a tour of the ship.  While the Head and the Admiral went their way.
I was embarrassed to look the way I did with my Baba badge and funny clothes and long hair.  Nevertheless my faith in Baba (he had long hair) gave me courage to go. You had to go outside your comfort zone.  I also asked my boss in the Navy Department if I could keep silence on silence day and he said I could.  After the boys from work got back from the pub at lunch they tried to make me talk and messed up my desk with chicken-bones.
I was so excited to get a copy of The Wayfarers which I got from Adi K Adjani from Pakistan (a Baba lover there).  I showed The Wayfarers to all at work.  They thought I was mad.
During this time Baba was in seclusion and we were kept informed through Baba's sister Mani's Family Letters which came out regularly.  It was a very exciting powerful and electrically charged time then.  Baba was doing his seclusion work and we felt it.
Although we understood Baba to be very unwell, we held hope that one day we might be able to see him in India. .. But his seclusion kept going on and on.  One day we received information that Baba would give permission to see him.  He would give Darshan between April and June 1969.  We were so excited that we would see him.  But this was not to be, Baba dropped his body on the 31st January 1969.  It happened- but being the Avatar we just missed-out in getting to meet Baba personally in body.  The Darshan the Baba promised was now up in the air.  We wondered if it was going to still be on.
A telegram then soon came from the Mandali in India saying that the Darshan would still be on as per Baba's orders described by Mani in the Family Letters.  Bill Le Page gives an accurate account of what happened at this time on page 3 of Meher Baba Australia June/Aug 2009.
Just after Baba dropped the body in 1969, Bill Le Page came down to Melbourne and we had a Baba meeting in Melbourne where travel arrangements to fly to India as part of an Australian group were discussed.  About 41 of us were happy to go together on a charter flight with Air India.  This made the ticket affordable for many people.  But the charter flight could not be arranged, so in the end 46 of us from different places in Australia ended up going on an ordinary flight under a group booking.  This made the tickets more expensive that a charter flight so some people could not go.  Our small group left from Melbourne and flew to Sydney were we met the rest of the groups.  From there we all flew on an Air India to Bombay India.
I had to cut my hair as the Singapore authorities wouldn't allow long hair.  As we landed in Singapore the security at the airport were on the tarmac (women holding machine guns) and we were taken through Customs, passports were stamped and we were off to Bombay, India.  Two people, the Franklins, joined our group later.  They came from America via Japan.  Oswald Hall met us at Perth Airport.  Paul and Anne Smith, Peter Barrett and Philip Motherwell joined our group also when we got to Poona.  Others there at the same time were Don Stevens Alain Youel and Carrie Ben Shammai from Israel.
It was an exciting flight and we met for the first time with a few Baba lovers on board.
Air India were great and we were looked after well.  Finally we reached Bombay and we flew over the Slum Dwellers on the tarmac surrounding the airport. We landed, it was very late at night, very hot and the smell of India hit us.  On the tarmac to greet us were Francis Brabazon and Adi k Irani and as we got off the plane they greeted us one by one-just above us high up on the airport viewing balcony were Baba lovers giving out a long.  Avatar Meher Baba Ki Jai! It was overwhelming and we shed a tear as Francis said to us, "Welcome Home!"
We proceeded through Customs; we were basically just passed though.  We then went to the hotel in Bombay.  (The Taj Hotel at India Gate).
I shared a room (two huge rooms) with Bernard Bruford and Rob Buchanan and Denis Smith.  We only had a couple of hours sleep as in the morning we were to go to the Elephanta Caves which we did by boat to Elephanta Island.  We went with Francis and Adi K Irani.
Later that day we flew to Aurangabad over the Ghats. We all went to visit the Ellora Caves where Baba often went and loved the atmosphere there.  Because of Baba's connection here Francis and Adi took us all around the caves and we all sang the Australian Arti in the main Buddhist cave along with Francis.
During part of our tour of the Aurangabad area we visited and climbed the Bi Bi Ka Makbara (mini Taj Mahal) that Aurangzeb had built when he moved from the capital city of Delhi to Aurangabad.
We were taken to the Samadhi of Zar Zar Zari Bakshi at the city of Daulatabad.  He was a Perfect Master and maybe of Sai Baba of Shirdi.
It was very hot in Aurangabad. Roy Hayes, Bob Welsh, George McGahey, Denis Smith and myself went to the local market and bought Australian cricket hats and proceeded to walk down the main street of the town, in the midday sun, but we soon thought better of it and headed back to the hotel, where we just lay on our beds and melted in the heat.  The overhead fans didn't help, it was so hot.
Some of us went to Poona where the Darshan was being held in a 16 seated car like a large taxi with marvellous leather seats. While I think the rest of the group may have gone by bus.  There was a group photo taken of the group at the bus.
We arrived in Poona from Aurangabad and stayed in the ** Amir Hotel.
During the afternoon we were sent a message from Mehera that asked us to write something to Baba on supplied pink paper.  I wrote a spiral letter with a piece of string attached to the centre of the letter and you could read it when you held the string as it spun around the letter ended in the middle of the page with the word !! "Source" (as Baba). Very hippie!!! At the Amir Hotel I met Baba's brother Jal for the first time.  We had corresponded regularly over the past years and he used to send Baba buttons that had been touched by Baba to distribute to Baba lovers in Australia.  Jal came up to the room where we were staying and introduced himself.  He was very lively and funny and we had a great time with him.  Jal took us to visit the Sassoon and General Hospital where Baba was born.  And we went into the room where Baba was born with Jal telling us about Baba's birth.  Later we went to visit Hazrat Babajan's Samahdi.
Earlier we all visited 765 Dastur-Meher Road to see Baba's house in Poona.  It was a modest house and we met Baba's brother Beheram and Perrin there.  Baba's brother Jalbhai was there to guide us and he showed us his hand where Baba had placed a burning piece of charcoal to test his faith in Baba.  We saw the cabinet that had many of Baba's personal items like his comb and brush and other items such as photo's of Baba and Mehera. It was very intense.  I remember each of us being allowed to look at the cabinet in turn. Each time that I looked at each individual item in the cabinet.  It seemed because of the intense concentration in my mind at the time that I heard an old man's voice was saying Jim Miskia is looking at Baba's comb.  When my eyes looked at the next object in the cabinet a voice said now Jim Miskia is now looking at etc … When I completed looking at every object in the cabinet I looked up. There was a small window near the cabinet and a few small children where playing nearby.  But no old man with a deep voice but it certainly had seemed like it because of the intense concentration.
We all bowed down at the black stone that Baba banged his head on when he was coming down from Consciousness.  There was also the eternal flame that was burning in an alcove above near pictures of Baba as Zoroaster and Jesus.
We saw the well that many people from Poona drew water from when there was a drought and the marvellous Chicku tree that Sheriarji (Baba's father) planted.  I was happy to see Jal's little room in Baba House.  It was very humble and the atmosphere was charged with Baba's presence.  Later Jal took some of us to take Tea and Cake at a Tea Shop near Baba's house.  We also were shown Pumpkin House which was fantastic.  Jal was our guide around Poona.  I remember Dr Donkin being always there to assist us.  Behind the scenes he was making sure that our hotel in Poona was clean even to the point that he supervised the cleaning of the kitchens and toilets.  One day once we were at Guruprasad during the Darshan I had a ride in Dr Donkin's marvellous car to Guruprasad where the Darshan was held.  I sat bolt upright in the passenger seat.  It was such a thrill because Baba had sat in this seat also.  Dr Donkin had beautiful blue eyes which seemed to be searching and missing Baba's physical form very much.  He wore a beret and had pick cheeks and was very polite and English and was very unassuming.  He was great.  He wrote The Wayfarers.
During the first day of the Darshan we were very much looking forward to meet Baba at Guruprasad and our first impression of Guruprasad was even more grand than we expected.
Walking through the front gates and down through the walkway through the gardens and then seeing the magnificent palace in all it's splendour shining and proud for the first time and then being introduced to the Mandali one by one, with Eruch seeming so familiar, we felt like one family.
All the men Mandali meeting outside on the veranda, and also Mani and the other women mandali.  But I think we saw Baba's Beloved Mehera inside Guruprasad hall.  I remember that although it was very free, very much as we belonged as a Baba family all of us including the Mandali in Baba's presence.
The Darshan program started at 9 am on the dot.  I remembered that Eruch said that this punctuality was very important.
When we entered the main hall Eruch welcomed us and asked if anyone knew the Master's Prayer and the Prayer of Repentance.  Le (Leopold) Buchanan knew it perfectly by heart and we all said the Prayers.
Eruch asked Mehera to meet us and she said "Jai Baba" with folded hands.  It was very moving, it was very brave, but Mehera was Queenly in her standing before Baba and all of us
We all took our turn to bow down to Baba's chair.
Bowing down to Baba's chair in Guruprasad.  It was obvious that Baba was there to greet each and every one of us.  And we felt that our mission was complete and we had obeyed Baba's wish not to see him during his seclusion, but fulfilled our obligation to come for Baba's Darshan here at Guruprasad when he called us.  These recollections of mine where confirmed for me when I read Bill Le Page's and Bernard Buford's recollections in Meher Baba Australia June/Aug 2009.  I can testify that I felt exactly the same Baba.
I still can't express my feelings fully.  But it was the most important action that Baba allowed me to do, to bow down to him in that chair.  He was there and he was even more so in the Samahdi at Meherazad.  My experience was the same as how Felix Schmid described his in his account.
We also were shown into another room at Guruprasad that had the chair that Baba had roped off and also his chair had the perfume and majesty of Avatar Meher Baba.  We all bowed down to this chair and it had Baba's arms embracing you and hugging Baba both sides. then bowing down to Baba's feet and feeling deep Baba's love and presence, I felt the embrace and very personal kiss on both cheeks of Baba's physical form in the chair.  It was marvellous."  I had come home to papa!"
With all the solemnity and obedience that Baba demanded of me.  At the same time he was allowing me complete freedom and I felt very relaxed and at home.
The proceeding program went on with Eruch being very precise in the time.  Punctuality was very important.  The program started right on time.  Baba's picture was on the chair and the program began.
Eruch related some wonderful stories of Baba and the story of Guruprasad which John Grant taped.  Also Mani told some marvellous stories.  Eruch asked if the Australian Group would like to perform a skit or a song or just entertain Baba right now.
Ruthie and Jenny sang songs by Francis Brabazon and no one else got up and volunteered at that time.  I felt compelled to bring something from the Aussie group to share with the Mandali and for Baba even though it may have been amateurish, so I got up and played sitar.  Right after I played Allen Youel (from the USA) performed a puppet show.  Mani played sitar also.
Later we all sat on the carpeted floor at Guruprasad and met the women Mandali.  We talked freely to the women Mandali I remember sitting next to Rano Gayley who told us some stories. Later Meheru sat down next to me.  Little Naja the cook was there to and she was funny, she had cooked for Baba and told us how she cooked for Baba.  I remember thinking that the Mandali's English was first class.  Roy Hayes also then came and sat down.  Stephen Campbell had a tape recorder I think and he taped the conversation.  Also lovely John Grant did tape as well.  It was marvellous.
One afternoon we were entertained by the musicians from Andhra.  Three performers doing an opera style presentation about Baba's life.  They had entertained Baba at Guruprasad in 1965.  I also remember a young girl danced.  (Bharata Natyam) a South Indian Dance.  Also Kohiyar from Mahabaleshwar sang a very difficult (because of breath control) Prayer.
The whole group during the program remained very attentive and quiet.
Francis Brabazon read The Mighty Beloved.  The words I remember were "I am amazed and filled with joy to discover that the Beloved I have been serving for many years is truly a Mighty Beloved". It was a very powerful message and showed us Francis.
During the time the most important things were being in Baba's presence, Baba's Beloved   Mehera coming in front of us and introducing herself with "Jai Baba".  Eruch made a big impression on all of us and was the Master of Ceremonies.
When we finally came back to Australia I tried to explain to my mother how Baba gave me His love to her through me and I was happy.  Baba had wanted this conveyed to all back in Australia.
I remember the order as we took turns to bow down for the first time to Baba in the chair (or roughly just the few around me) I jumped up just before John Grant had bowed down to Baba "there in the chair" and he had his arms around me and felt the current of His Baba Love came pouring out of Baba to me.  I felt the same way every time I bowed sown to Baba in the chair throughout the Darshan.  The other chair that was roped off before Baba dropped the body was now available and had another facet of the diamond Baba.  It was full of power and his love drenched us in his bounty.  And as Felix in his recollections says "Inside Baba's tomb, the marble slab was not yet installed.  The grave was covered with a simple cloth that covered the bare earth.  To me it felt as if Baba was clearly there and could step out any moment He felt like."
So true…