News - Sydney, New South Wales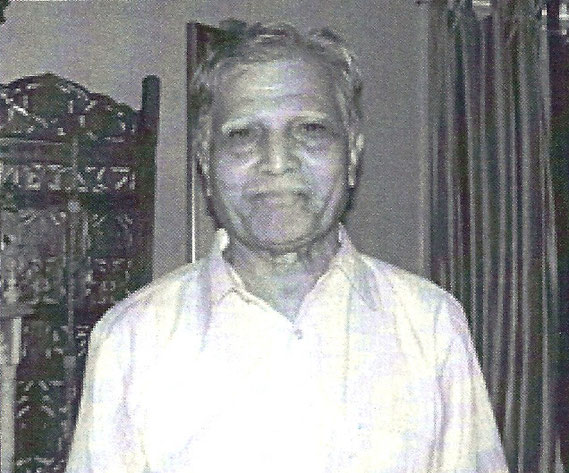 Pratap and Swaroop Ahir from Pune, India will fly into Sydney on Monday 28th September and later on Thursday 1st October fly to the Sunshine Coast, Queensland to attend the Sahavas programme at Avatar's Abode.

Contact David Hobson for further details - 0401 035 083


Saturday, 28th March 2015

Dear friends - our very learned Matt Ives, from his ivory tower in Oxford, UK has been doing excellent research into the advents of the Avatar. Matt's sister Jane has been presenting the results of Matt's research at our monthly Meher House meeting over the past year.
This month Kevin Mossberger will be presenting Matt's research into the life of Avatar Mohammed. It promises to be a very interesting evening.
The meeting, at Meher House, 12 Kalianna Crescent, Beacon Hill, starts at 7:30 PM on Saturday March 28. You are welcome to come to Meher House from 7 PM on.
I will take this opportunity to tell you about the excellent work that husband-and-wife team Danny Baxter and Katie Pye have doing to clean up the tremendous amount of overgrowth at Meher House on the south, backyard side. It has been a Herculean task to cut, drag up, and remove vast amounts of privets, camphor laurels and other non-native, invasive plants. At last count, at least 8 ute loads of tightly packed vegetation have been taken to the recycling centre.
While Danny and Katie have been labouring in the backyard, I have been focussing on rehabbing Francis's Cabin. This where Francis lived when he was building Meher House, and it is where he gratefully undertook a 28 fast which Baba gave him as a "reward" for the performance of his play The Quest at Meher House during Baba's visit in 1956. I am reattaching the doorframe in its original position. I have removed about 20 cm of debris and building rubble to discover the original concrete slab floor is in good condition.
Jai Baba
Michael
0408 225 9870408 225 987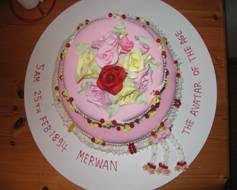 Preparation for Meher Baba's 121st Birthday Celebrations!
Yes, the Ageless One will be 121 on Wednesday February 25, and we are starting to get ready.
There will be a morning programme at Meher House to honour Meher Baba's actual birth time of 5am. Meher House will be open from 4:45am.
And in the evening there will be a programme starting at 7pm.
More details to follow, but if you would like to contribute to the programme, we are looking for acting, singing, dancing, reading or anything to entertain Baba!
Please contact Kevin Mossberger on 0412 559 402 or Emily Chantiri on Emily.Chantiri@bigpond.com
Stand by for more!
Jai Baba!
Kev and Em

MEDIA RELEASE
SEPTEMBER 2014
FREE PUBLIC EVENT: Wednesday 8 October 2014 – 7-8:30pm
Where: University of Sydney, New Law School Seminar 022
Staying True to Yourself: Drugs, Intoxication and Spiritual Implications
You are invited to join in a lively discussion with Dr. Allan Cohen and Sydney journalist, Emily Chantiri.
The event will be introduced by award winning producer, Kris Wyld, of East-West 101.
Renowned author and drug prevention campaigner, Dr. Allan Cohen will bring a generation of knowledge and discuss the impact of drugs and their spiritual implications.
The discussion will focus on how we can remain true to ourselves. The search for truth and meaning in life is a question we all ask; whilst some seek answers in drugs, others seek answers in spirituality.
Dr. Cohen's life work began in the early sixties, at the height of drugs, sex and rock and roll era. Initially, he worked with the drug explorers, Timothy Leary and Ram Dass. During this period, Dr. Cohen's life experienced a radical shift after he received a message from the spiritual master, Meher Baba. This would set him on a career path concentrating on the prevention and intervention of drug abuse as well as focusing on the spiritual path.
"In the sixties I was a graduate student at Harvard, my extracurricular activities included 3 years of experimentation with mind-altering drugs. These were the early days of the psychedelic movement, when adventurers of inner space were trying to explore the chemical frontiers of consciousness. In August 1964, I became interested in Meher Baba. I was especially impressed by the exquisite profundity of his writings on the nature of consciousness."
Dr. Cohen will be interviewed by Sydney journalist, Emily Chantiri, contributor to Sydney Morning Herald, and the best-selling author of The Money Club, Savvy Girl's Guide to Money and The Voice of Intuition.
Organiser and Contact: Kevin Mossberger (kevdude@yahoo.com)
Email: emily.chantiri@bigpond.com
About Allan Cohen
Allan Cohen's career spans across four decades in drug abuse prevention and intervention. Cohen gained his Clinical Psychology degree at Harvard University. He is the author of the groundbreaking book (written with Peter Marin, Harper & Row), Understanding Drug Use: An Adult's Guide to Drugs and the Young. He co-founded the Pacific Institute for Research & Evaluation (PIRE), a non-profit organization that grew to a staff of 500 and remains nationally respected in the field of public health research and consultation. His professional work has been recognized with a lifetime career achievement award from the National Association of State Drug and Alcohol Directors (NASADAD) in the United States.
About Kris Wyld
Kris Wyld is an award winning producer and writer for a number of Australian television series including East-West 101, The Strip, and Wildside.
About Emily Chantiri
Emily Chantiri is a best selling author and journalist. She is a regular contributor to Sydney Morning Herald, The Age, The News Daily and numerous other publications. Emily is the author of four books, including three bestsellers, The Money Club, Financially Fit for Life and The Savvy Girl's Money Book. The Voice of Intuition is her latest book. www.emilychantiri.com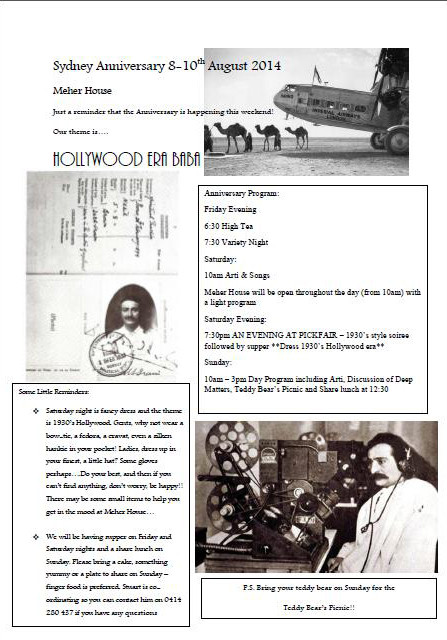 Sydney Anniversary 8-10th August 2014
Meher House
Just a reminder that the Anniversary is happening this weekend!
Our theme is….
Hollywood Era Baba
Anniversary Program:
Friday Evening
6:30 High Tea
7:30 Variety Night
Saturday:
10am Arti & Songs
Meher House will be open throughout the day (from 10am) with a light program
Saturday Evening:
7:30pm AN EVENING AT PICKFAIR – 1930's style soiree followed by supper **Dress 1930's Hollywood era**
Sunday:
10am – 3pm Day Program including Arti, Discussion of Deep Matters, Teddy Bear's Picnic and Share lunch at 12:30
Some Little Reminders:
** Saturday night is fancy dress and the theme is 1930's Hollywood. Gents, why not wear a bow-tie, a fedora, a cravat, even a silken hankie in your pocket! Ladies, dress up in your finest, a little hat? Some gloves perhaps….Do your best, and then if you can't find anything, don't worry, be happy!! There may be some small items to help you get in the mood at Meher House…
** We will be having supper on Friday and Saturday nights and a share lunch on Sunday. Please bring a cake, something yummy or a plate to share. On Sunday finger food is preferred. Stuart is co-ordinating so you can contact him on 0414 280 437 if you have any questions
P.S. Don't forget to bring your teddy bear on Sunday for the Teddy Bear's Picnic
Jai Meher Baba 
Meherose & Stuart
Meherose Borthwick 0417 053 036 meherose@hotmail.com
Stuart Rigg 0414 280 437 mrberlin@hotmail.com